Want to maximize your earnings in SpaceSwap? Then the Strawberry planet is your number one destination. Find out how and where to get MilkyWay (MILK) coins and how to stake them in SpaceSwap.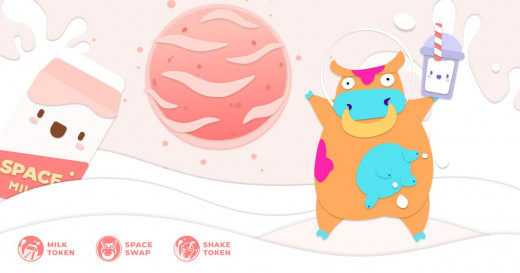 So, you've joined the SpaceSwap team of cosmic farmers and are wondering which planet to visit first? No matter where you practice yield farming, the Strawberry planet should be your number one destination because it represents the MILK-ETH liquidity pool in SpaceSwap and allows contributors to enjoy the most delicious APY rates (1,000% and higher)!

Ignoring this pool would be a huge mistake because you'll miss out on a large portion of MILK rewards. So fasten your seatbelt and start the test journey to the Strawberry planet with the SpaceSwap team - we've prepared this guide for you.


Get MILK coins
Don't be surprised but before you start earning MILK, you should contribute it first.
MILK is the fuel of the SpaceSwap rocket and the Strawberry pool. You can get it in two ways:

Earn reward coins after staking in other Milky Planets (pools)
Buy it on Uniswap

We'll take a look at the second option.

Open the Uniswap Dashboard and enter 'MILK' in the search bar. Select MilkyWay Token (MILK). Do NOT mix it up with other tokens - beware of third-party tokens with the same ticker!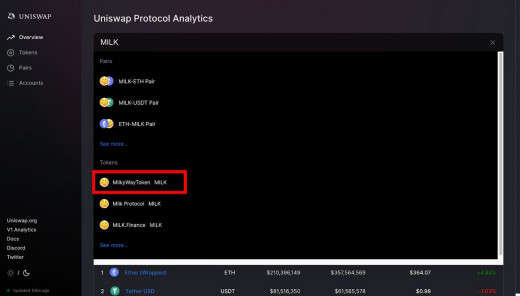 Proceed to the MilkyWayToken page to see the details and click on 'Trade'.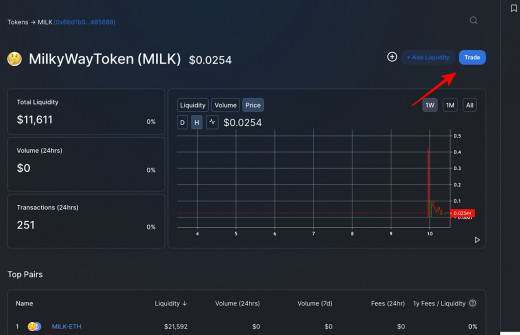 On the exchange window, you need to enter the amount of cryptocurrency you want to buy with and select the 'MILK'' token to make the purchase. Choose it from Uniswap's Default List. If you cannot find MilkyWayToken by the MILK ticker, paste the smart contract address in the search field: 0x66d1b01c0fd7c2d8718f0997494b53ff5c485688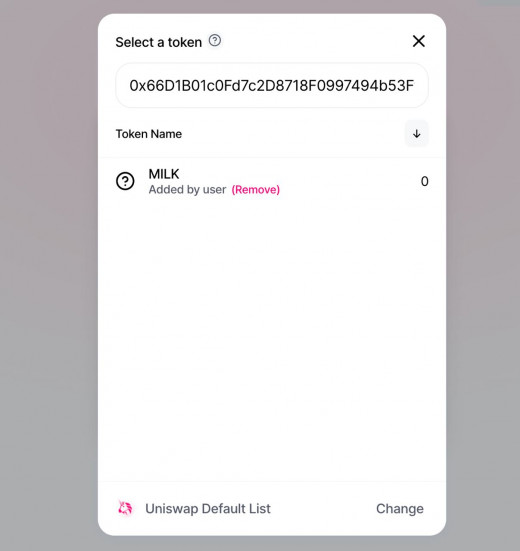 In the Swap panel, you'll see the amount of MILK you'll get, its current price and the liquidity provider's fee. Approve spending of the currency and click on 'Swap' to finish the transaction. Note that both these operations require an ETH gas fee.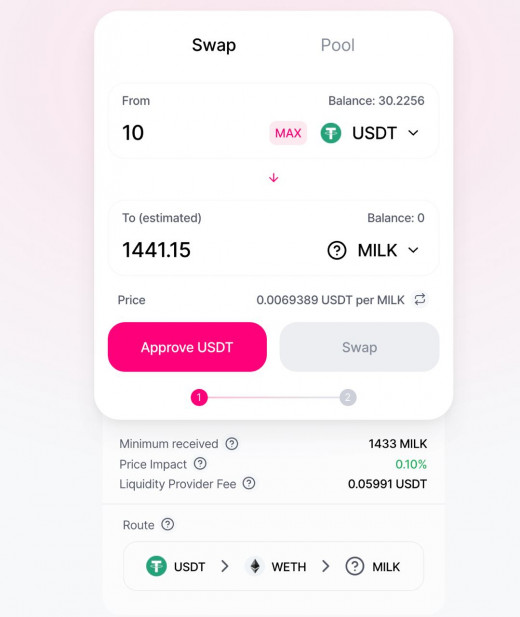 Now when you've bought MILK on Uniswap, go to ETH-MILK pool and click on 'Add Liquidity'.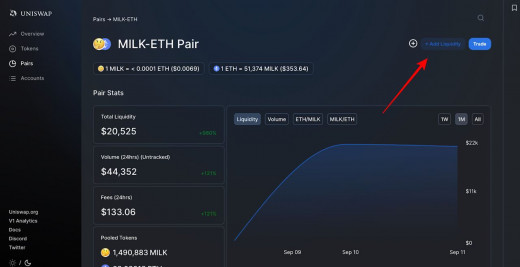 Proceed to the next window and select the amount of MILK to submit (click on 'MAX' to provide all your MILK coins). The amount of ETH to submit will be calculated automatically. First, approve MILK usage in Uniswap (you'll be charged a one-time ETH gas fee for that). After the approval, click on 'Supply'.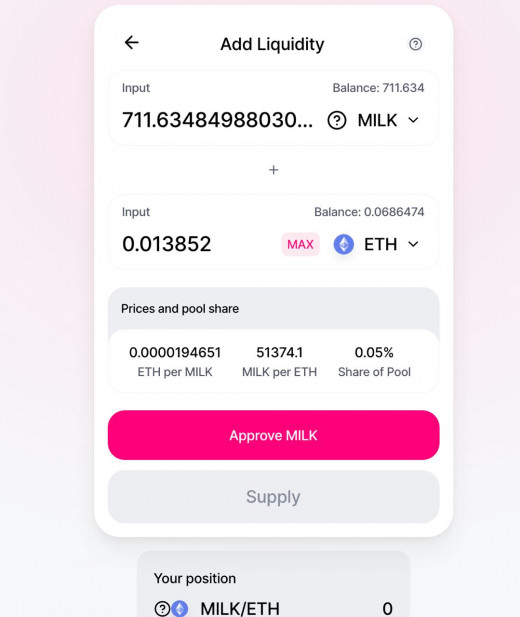 Now you have MILK-ETH liquidity in Uniswap. It's time to submit it to SpaceSwap!


Welcome to the Strawberry planet!
Now you are ready to explore the Strawberry planet. Open this pool and click on 'Approve' to give it access to your MILK-ETH UNI-V2 LP tokens.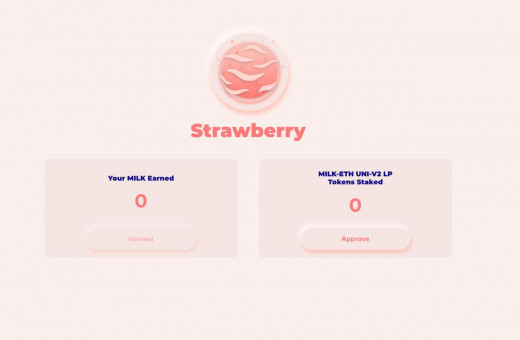 You will need to pay an ETH gas transaction fee (it's required only once).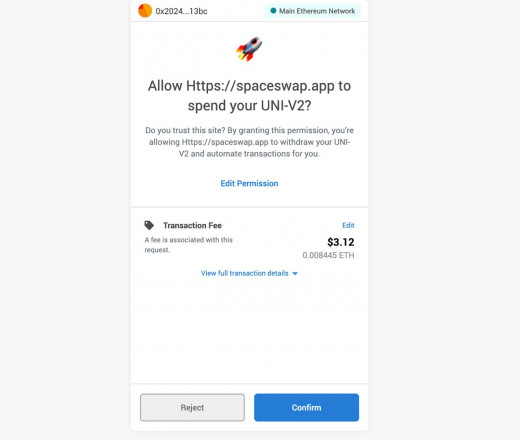 When the transaction gets processed, you will see the button 'Stake' instead of 'Approve'.
Press 'Stake'. Select the amount of liquidity to submit (click on 'MAX' to submit all) and click on 'Confirm'.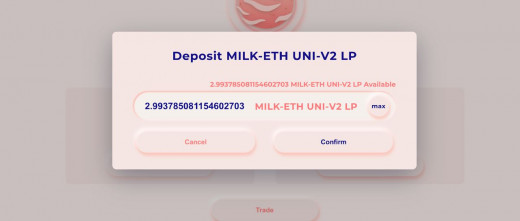 You will have to pay an ETH gas fee for providing liquidity to the MILK-ETH UNI-V2 pool on SpaceSwap. Once it's done, you will become a proud liquidity provider on the Strawberry planet.

Congratulations! Now, you can see the amount of liquidity provided and the MILK coins you earned.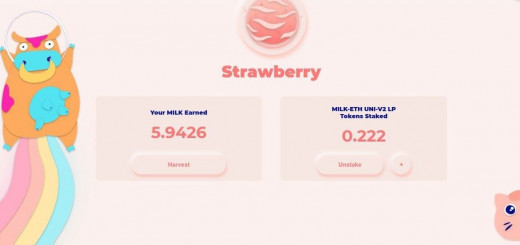 You can harvest earned MILK and deposit it once again or exchange it for other coins (this feature will be added soon).

Other planets are waiting for you!
Now you know how to stake your liquidity in the MILK-ETH pool on SpaceSwap. The principle is the same for each pool, so soon you will become a professional and most importantly, rich DeFi explorer. MILK the SpaceSwap crypto cow and enjoy fair yield farming & staking!

Need more info? Check out the smart contract on GitHub and visit https://spaceswap.app/
Open the MILK-ETH pool on Uniswap and click on the 'Trade' button to buy MILK instantly.
Fresh & delicious news is available on Telegram and Twitter.
Join the SpaceSwap astronaut team in Discord.
WeChat channel invitation via manager: