Hey there! SpaceSwap forges ahead! Just recently we announced the new IDO of the Penguin Karts project with the sale scheduled on March 18th — all the details can already be found on the official launchpad website: https://spaceswap.app/tokensale/penguinkarts. The number of participant slots for this event will be announced shortly. And now let's plunge into the Fantom network and see what it has to offer, and of course set up our wallets and get ready!

The sale will be held on the BSC network and the distribution or claim will be conducted through the Fantom network. Fantom is already EVM compatible, so all you have to do is set up the network installation in advance. To learn how to do this, read on.

What is Fantom?

Fantom is a rapid, open-source, smart contract platform for digital assets and dApps. This global decentralized network provides a wide range of features. It is a fully EVM compatible network on which users can deploy their dApps at minimal cost. Chainlink and Band Protocol oracles have been integrated, offering maximum flexibility for accessing price feeds. Users can earn rewards by staking their FTMs to secure the network.

Fantom's main killer feature is the aBFT consensus protocol, ensuring high-speed security transactions with quite low fees. The network can process thousands of transactions in a moment and scale to thousands of nodes. More than 80 dApps have already been launched and are operating successfully on Fantom.

Solutions powered by Fantom:


DEXs
Cross-chain Bridges
Lending and Borrowing
Yield Optimizers
NFT Platforms
Tools
Wallets

How to set up Fantom for your MetaMask wallet

Let's take a closer look at how to connect your MetaMask wallet to this fascinating network. Our team has prepared a short guide explaining how it is done:

Step 1
Log in to MetaMask -> Click on the Network drop-down menu -> Select 'Custom RPC'.



Network Name: Fantom Opera
RPC URL: https://rpc.ftm.tools/
ChainID: 250
Symbol: FTM
Block Explorer URL: https://ftmscan.com/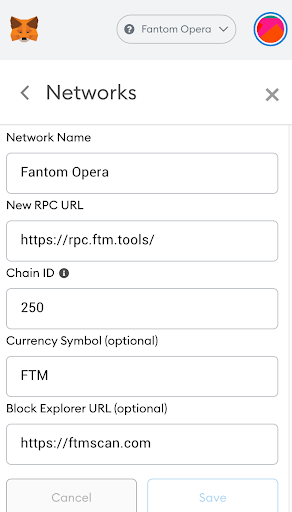 That's it, easy as ABC! You can also check the official guide from Fantom: https://docs.fantom.foundation/tutorials/set-up-metamask

Fantom Wallets

The Fantom network also allows you to securely store and sell FTMs and other assets. Fantom is fully compatible with most advanced wallets on the market – fWallet, MetaMask, Ledger, Coinbase Wallet, Trust Wallet, Math Wallet, Coin98, Edge and others. Please note, that you can only use MetaMask for participating in the IDO on the SpaceSwap Starter platform.

If you'd like to learn more about the wallets available on Fantom, how to connect and use them, just follow this link: https://fantom.foundation/wallets/

We're always happy to present you with new updates and to improve your DeFi experience. Let's continue to disrupt the market together and achieve new heights.

Stay tuned!

Website: https://spaceswap.app
Telegram: t.me/SpaceSwap
Twitter: https://twitter.com/spaceswapdefi
Blog: https://blog.spaceswap.app
Discord: https://discord.com/invite/4hvxZNWGHP