This week, SpaceSwap Starter launchpad will be holding its first official crowd sale event featuring the Marnotaur liquidity protocol. This is an exclusive opportunity for SpaceSwap users and MILK2 holders. Below is a thorough guide on how to participate in the sale and as always, our tech support team will be able to answer your questions at any time.


SpaceSwap Starter Marnotaur token sale - main information
Token
Total Offering Amount
Token sale coin
Price
Total Raise
Min stake amount
Max stake amount
MILK2 unstaking period
Number of participants
the first 50 registered users
Marnotaur community sale event guide
Step 1
Staking MILK2 tokens

To participate in any SpaceSwap Starter event, users need to stake SpaceSwap's native MILK2 token. Due to the exclusivity of this community round, the token offer is very limited: 212,766 TAUR coins. The minimum stake amount is 5,000 ERC-20 MILK2 and the maximum stake amount is 30,000 ERC-20 MILK2.


Quick review of staking tokens

Why stake?

Every registered participant of the token sale will be receiving their own token allocation, based on their share of the total amount staked. Staking MILK2 is a prerequisite for participating in the event.

How we count users' allocation

Let's say Anna, Beth and Dylan decide to participate in the token sale. The amount of MILK2 they each stake is as follows:

Anna - 5,000 MILK2
Beth - 5,000 MILK2
Dylan - 10,000 MILK2

The total amount (100%) of staked MILK2 is 20,000. Anna gets 25%, Beth also gets 25% and Dylan gets 50% of the allocation. That means that Anna and Beth will each be able to buy 25% of the tokens sold during the event, while Dylan will be able to buy 50%.

Note:- they are not obliged to buy these tokens. Allocation only gives you the RIGHT to buy. Whether you buy or not and how much you buy - that is your own decision.

Min and Max stake

As a general rule in future, for regular IDO and token sales on the SpaceSwap Starter platform, the maximum staking amount will not be applied. The Marnotaur event is exclusive and thus, a very limited token distribution. Restrictions are made to not allow very small allocations. The minimal amount might also be changed in future, due to MILK2 price fluctuations, but the entry threshold is planned to be around $1,000.

Staking and withdrawing MILK2 tokens. Stages

The staking process on the SpaceSwap Starter platform has 3 stages:


Staking - sending MILK2 to the contract address for allocation counting
Unstaking - initial withdrawal stage; users are able to withdraw the assets 7 days after initiating unstaking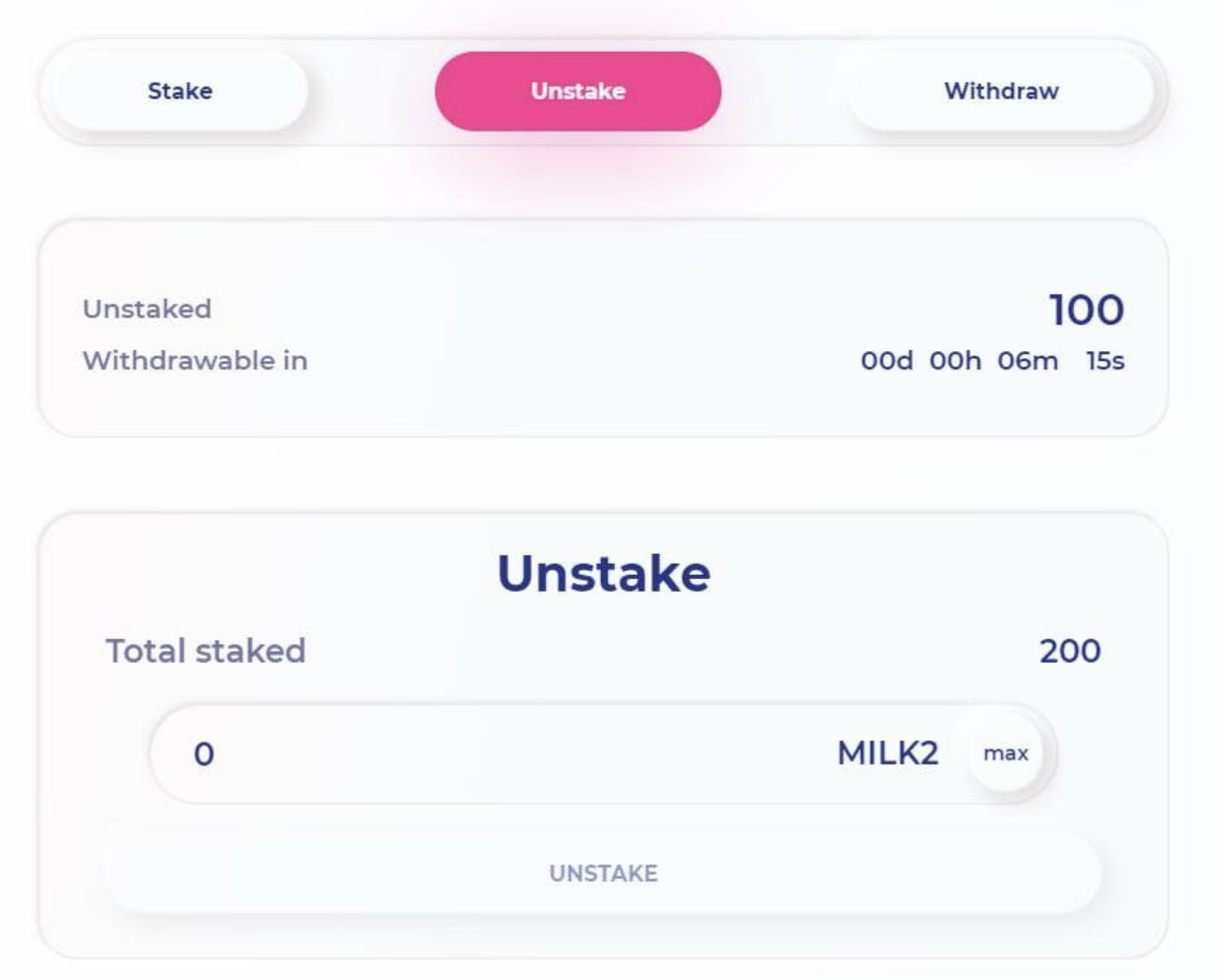 Withdrawal - the ultimate withdrawal stage, when users receive their funds in their wallets
Note:- all information in the pictures is shown as examples.
Step 2
Registering for the sale

Staking MILK2 tokens alone does not enable you to participate in the sale, nor does it oblige you to do so. After staking your tokens, you will need to register for the sale.

NOTE: The number of participants in this event is strictly limited to 50 registered users!

To be eligible to participate in the token sale, you will need to be among the FIRST 50 registered users. Just push the Register for sale button.

All information about the Marnotaur project's community round, including the date and time of registration, will be announced separately in official Marnotaur social media groups. Please follow, join and subscribe so that you do not miss any information:

Telegram
Twitter
Medium
YouTube
Discord

Inactive Participate button


Once the first 50 users have registered for the sale, the Participate button will become INACTIVE. A separate announcement will be made via social media.
The Participate button can also be INACTIVE if one or more token sale conditions are not met.
Step 3
The Sale

The token sale will be conducted on the SpaceSwap Starter platform. Only the first 50 registered users will be able to buy TAUR tokens.

Allocation

At the beginning of this stage, each participant will see their allocation. To buy TAURs, you will need some DAI of the ERC-20 standard. The amount of DAI needed will also be visible to each participant.

The sale process is simple. Just press the BUY ALLOCATION button on the platform and follow the directions in your wallet.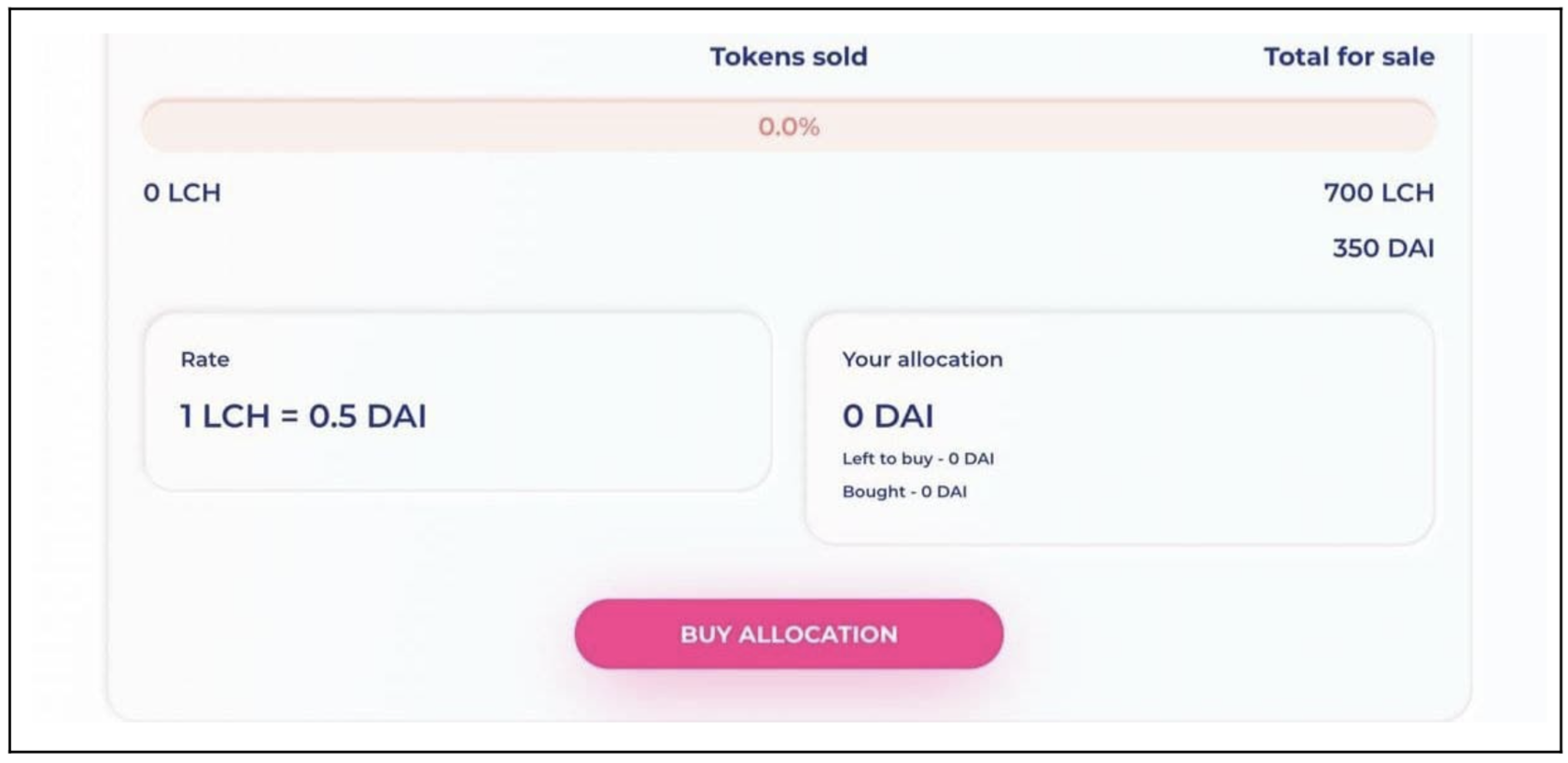 Step 4
Claim

For this token sale, we will be cooperating with the industry giant DAO Maker, who will help our users claim TAUR tokens of the BEP-20 standard.

SpaceSwap Starter is, for now, only operating on the Ethereum network, so it only supports the ERC-20 token standard. The TAUR token is issued on the Binance Smart Chain network, so to settle this discrepancy, we will be issuing the sTAUR ERC-20 token that will only be used for this particular event to represent the amount of tokens that can later be claimed. Push the CLAIM button and you will be redirected to the DAO Maker page where you will receive TAUR tokens in a 1:1 ratio.

sTAUR will only be used for this particular event. It will never be listed on any exchange, or used for governance or profit making. sTAUR will only be used for counting the number of tokens users will be able to claim on the DAO Maker platform.

Note:- the CLAIM button will be inactive on our platform until the moment of the claim on the DAO Maker platform. We will be announcing this information separately.


Vesting

The TAUR tokens will be vested as follows:


20% TGE
5% linear unlock each month, starting on the 4th

The DAO Maker team will be announcing the date of claim separately.

Every token sale round will last for different periods of time. All dates will be announced separately.
Please, note that every stage implies interaction with smart contracts, which means you will need to pay a fee on Ethereum network.


About Marnotaur

Marnotaur is a liquidity protocol for margin trading with a user-friendly platform where traders, liquidity providers, farmers and liquidity keepers can multiply their gains. The protocol is compatible with different blockchains and other protocols.

To learn more about Marnotaur, go to:

Website
Telegram
Twitter
Medium
YouTube
Discord

Also, find our Introductory to the Marnotaur token sale event here → https://bit.ly/38HoBDL

Stay tuned!

Website: https://spaceswap.app
Telegram: t.me/SpaceSwap
Twitter: https://twitter.com/spaceswapdefi
Blog: https://blog.spaceswap.app
Discord: https://discord.gg/r6RymJj