In the days of the NFT craze, when it seems like you've seen everything, the SpaceSwap team has come up with a new and adventurous NFT quest that will make your brain work and your wallets grow. NFT Mania is the first ever NFT quest based on a fully gamified platform, where you can compete individually or as a group to get to the three chests with the final prizes. The exact size of the prizes will be announced soon, but the total reward fund is over $135,000!!!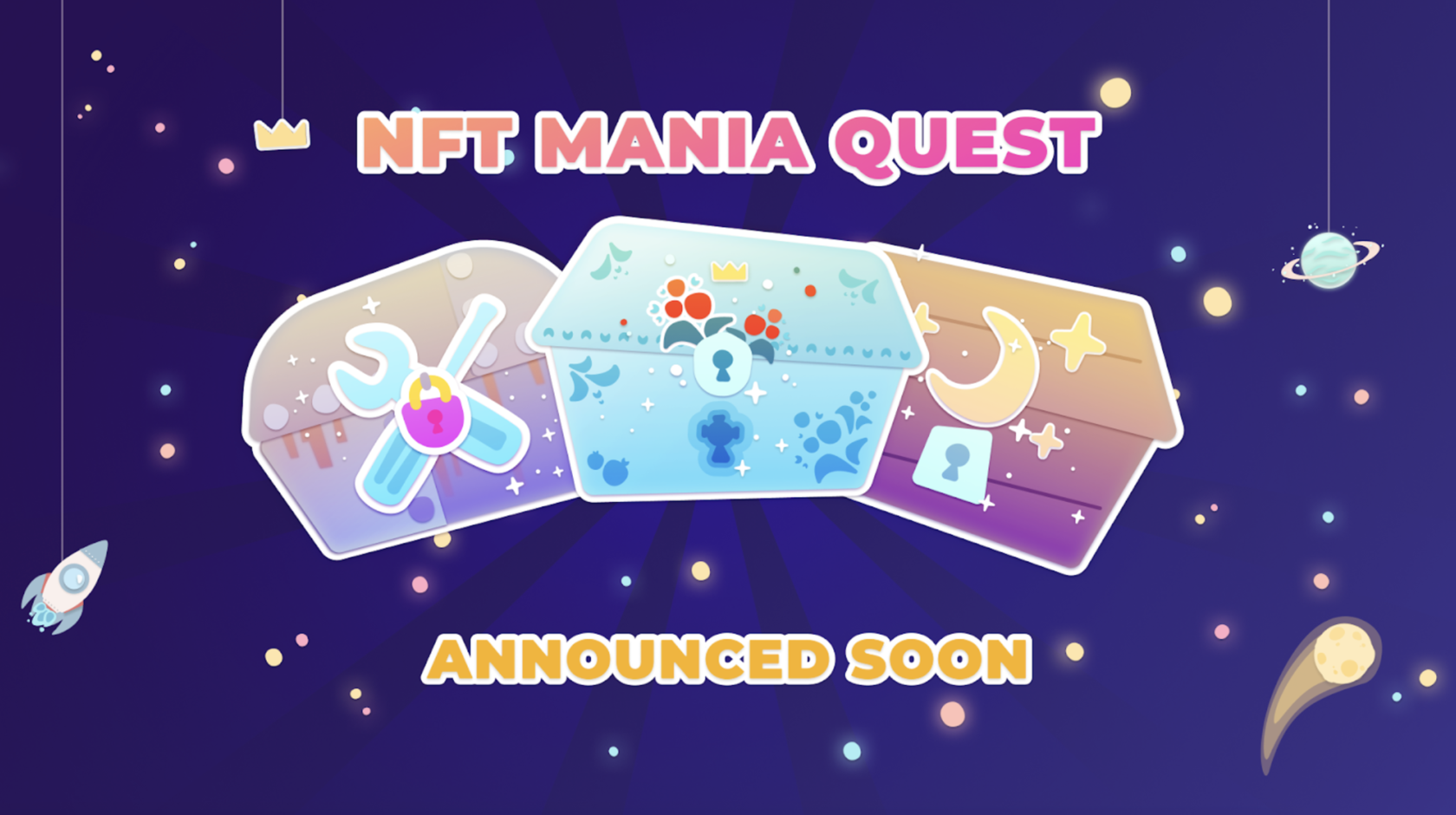 Our vision

With the recent boom of the NFT market, people are starting to forget that NFTs are not about speculation, the highest bid or a mere transaction. A NFT is an artistic creation, like any other physical art, it's a way for artists to express themselves, their thoughts and emotions and to share with the broader audience, their outlook on life according to their experiences. We want to get back to that state of the NFT market. That's why we created NFT Mania.

With NFT Mania, the SpaceSwap team wants you to get closer to the artists and feel the beauty of digital art. Each riddle and quest is a clue to an Easter egg hidden in the art. It can be a reference to what inspired an artist, an inside joke that explains the true meaning of the symbols or how it was created. That way, you will connect to the artists and get a taste of their world. NFT Mania is a unique gamified gallery of digital art, where every piece is a mystery for you to solve.


The rules of the game

Each chest will represent an existing wallet with funds in it. To unlock the prizes, you must complete a set of unusual tasks. We're talking about riddles, games, puzzles, challenges and tricky questions! It takes 12 quests to open a chest: one day, one riddle, one word from the seed phrase to restore the wallet! That's why it's very important to follow the game and complete the tasks in a certain order. The quest for all three prizes will start at the same time and it's for you to decide which path you choose.

The theme of the quest and all the characters will be revealed once the platform is ready to welcome its first players. You can expect to see our cow in a completely new role and you'll be meeting some villains from the SpaceSwap universe.

That's not all! It wouldn't be called NFT Mania without some NFTs as rewards! For the most adventurous users who want to experience NFT Mania to the fullest, we will also hold a number of Side Quests that will require you to solve only one riddle to win a NFT prize donated by the SpaceSwap team as well as some amazing guest artists. These prizes are as good as the ones locked inside the chests. On top of that, we will have regular giveaways that will make you want more. The Side Quests will take place every 3 days.

Website: https://spaceswap.app/
Telegram: t.me/SpaceSwap
Twitter: https://twitter.com/spaceswapdefi
Blog: https://blog.spaceswap.app/
Discord: https://discord.gg/r6RymJj
WeChat channel invitation via manager: