The SpaceSwap team is overjoyed to announce it's a 'go' for launch on BSC this coming Wednesday!


We already presented the new 'black version' interface for BSC last week and described the benefits of the system, which include:

Being able to see what resources are spent on MILK2 mining.
Being able to check the exact time of the next MILK2 distribution to all the holders.

All tokens can migrate across the chains, thanks to the SpaceSwap Bridge. Moreover, there will be liquidity in the SpaceSwap Bridge, courtesy of the great NFT sale!


The pools presented will be based on
PancakeSwap:
MILK2 / BNB
SHAKE / BNB
MILK2 / SHAKE

Just in case you haven't attached your wallet to the new super powerful chain yet, we've prepared a manual that will help you complete the process in 2-3 minutes.


How to attach your wallet to Binance Smart Chain
1. Open your wallet and go to the 'Settings' menu.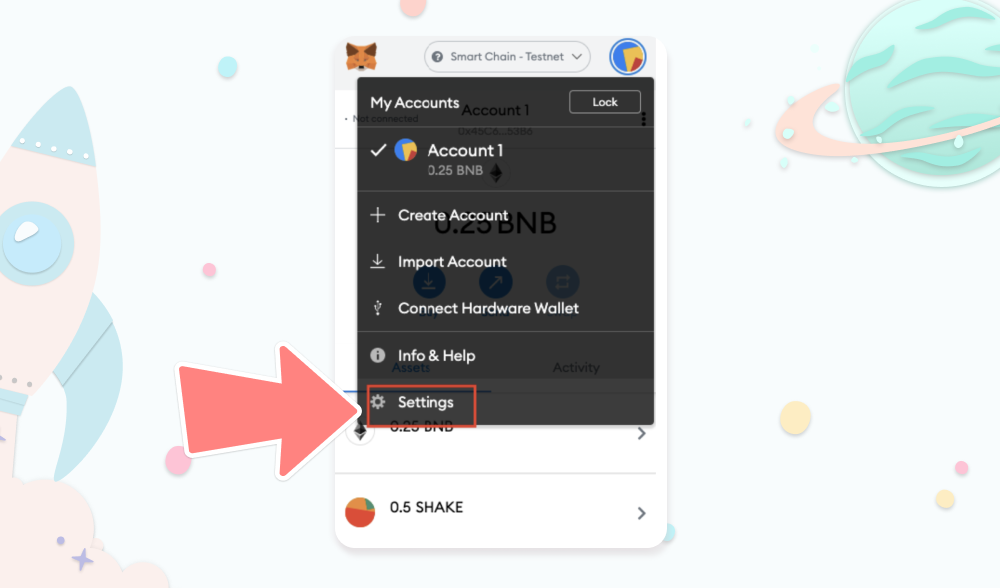 2. Choose the 'Networks' section.


3. Click on 'Add network'.
4. Fill in the form according to the data given below:


Main BSC
Name of the chain: Smart Chain
New RPC URL: https://bsc-dataseed.binance.org/
ID of the chain: 56
Symbol: BNB
URL block explorer: https://bscscan.com

5. Now you can choose Binance Smart Chain by switching the chain in the section above.


NB! The Binance Smart Chain ecosystem will feel the same as the Ethereum one. The mining option will be presented on both blockchains.

The Binance Smart Chain will be available from 24 February! Get ready for new supersonic transactions and low Gas fees!