Next week, SpaceSwap will host its fifth ever token launch on its IDO Starter launchpad for a project that, we believe, will act as a springboard into the metaverse ecosystem for real world businesses.

The CrypCade (iCade) token will be launched through our launchpad on 18th July. And considering the positive response from our community, we're very excited and optimistic about a successful launch.

So, how is CrypCade different from existing metaverse projects?

One of the biggest differences is that CrypCade offers real businesses a platform for entering into the metaverse and moreover, the ability to appeal to a larger audience in real time.

Despite the market decline, metaverses are developing with incredible speed. The metaverse is the next step in the development of the internet and is at the center of the Web 3.0 era. This idea has become widespread in recent years. However, most efforts to date are either from small platforms that are not highly scalable or from plug-ins that will someday be inserted into a true metaverse without the use of modern technologies to drive the future of Web 3.0.

However, we've learnt that CrypCade aims to bring big changes to the current state of things. In this article, we will share some brief insights into the new CrypCade platform – a service metaverse that enables enterprises, applications and crypto projects to create or deploy dApps.


CrypCade : A brief overview

CrypCade is an entertainment ecosystem that provides the ultimate gaming and entertainment experience to users in a metaverse environment.

With over 300 different characters, the CrypCade metaverse is a complete and functional ecosystem. The characters are divided into 5 factions: Shadow, Android, Terran, Metahuman and Outworld. Each character has a set of skills that will come in handy for the upcoming P2E games.

Besides characters, users can create their own realistic 3D NFT avatars. Choose between hundreds of unique characters, factions and rarity levels. Every NFT character has a 1:1 metaverse avatar correspondent that you won't find anywhere else!

The service is divided into 7 sectors. Right now, Sector 1 is the only one available. It allows users to explore city blocks, interact with NPCs, drive cars and enter unique buildings. Sectors 2, 3 and 4 are set to be released by the end of 2022.

In the city, players can purchase land and apartments. Both types of real-estate are limited in quantity and their scarcity makes them a very smart investment. Users can own a small or medium sized apartment or a luxury penthouse. In the future, developers plan to add rental agreements to monetize user's property and allow them to earn passive income.

Owning a vehicle in the metaverse is a rare thing. In CrypCade, users can enjoy driving around Sector 1 but soon, also a race track is added and players are able to compete with other players for prizes. There are three levels of cars: regular, performance and supercars.


Tokenomics

Another crucial aspect of any project is its tokenomics model and its utilities.

With a well-established token mining economy for sustainable growth and the anticipated influx of users, iCade token supports the building of powerful dApps on the CrypCade platform that are easily integrated and released.

The iCade token enhances versatility by intentionally allowing users to own platform stakes as the platform grows, creating a sustainable economic environment.

The general mechanics of token mining has been used by several platforms. In CrypCade, when a user spends money inside the game environment, iCade tokens are mined at the same time, then they are automatically credited to the user's platform wallet.

The main purpose of the iCade token is to provide access to a share of the Dividend Pool by freezing tokens in order to convert them into shares in the pool.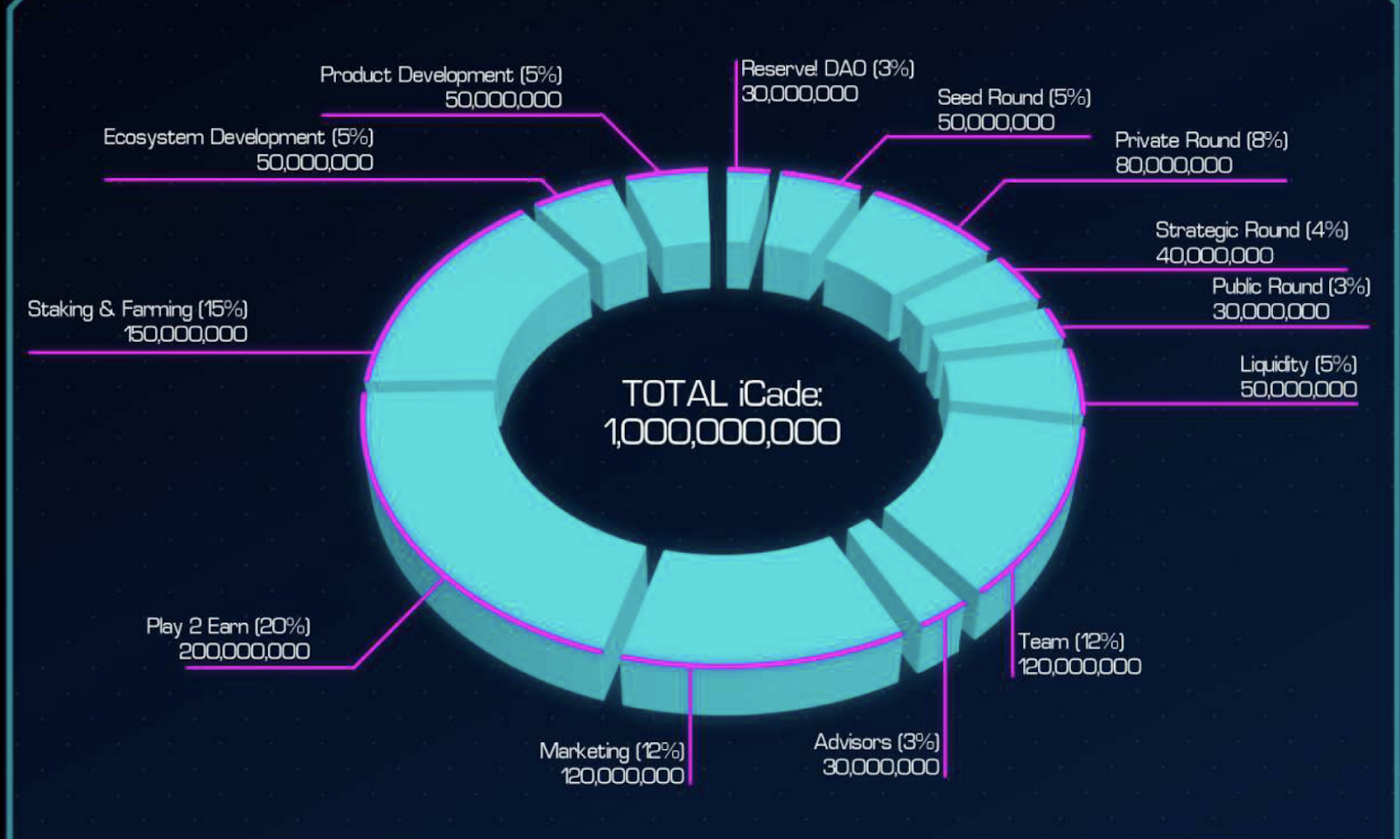 Part of the pool will be distributed daily to the development fund and the shareholders, with a smaller share set aside for daily prizes, leaderboard contests and giveaways, which will lead to a daily passive income for the user.

The rest of the pool will roll over to the next round and replenish the pool, allowing users to use the pre-filled pool for the next daily payout and to ensure the mechanism runs smoothly and continuously.

The total offer is 1,000,000,000 ICADE, where 20% is allocated for Play-to-Earn, 15% for staking and farming, 12% for marketing and the team, 8% for a private round, 5% for ecosystem development, a seed round, liquidity and only 3% for the public round, DAO reserve and advisors.


NFT Utility

The CrypCade economy is designed to be self-sustaining and NFT holders can earn passive income through rent collection, equity placement, shares or the Dividend Pool.

Active income - with 4 main Play-to-Earn games planned for implementation by the end of 2022, players have several ways to win tokens. NFTs representing vehicles, characters and various upgrades allow users to actively earn more income and work in a self-sufficient economy.

In-game perks are also represented as NFTs. There is a high demand for NFTs that enhance players' appearance and provide users with unique social interactions. NFTs can give characters more speed, higher jumps or a variety of additions such as special dance moves.



Real Business

Unlike other NFT integrations, CrypCade is a metaverse that is tied to real companies. Users will be able to use their products in virtual reality, so let's see which major companies officially partner up with the project.

1.Exclusive Autos - this service allows you to order real exclusive cars in the metaverse showroom and they will be delivered to your door. You also get your car's associated NFT.

2.ShoeFy - this company creates its own unique shoes that give your metaverse character additional attributes and perks.

3.Myra - the Al powering CrypCade is present in the metaverse. Here you can bet on your MYRA and learn more about trading platforms and launchpads.

4.RDB UK - a true high-end repair shop that also offers repairs and maintenance for your metaverse NFT vehicles.

5.Swallow - make your avatar stand out in the metaverse with an NFT tattoo that provides additional benefits.


Future plans

The project is in active development and the team has already completed the first phase of its roadmap. This includes the preparation of a CrypCade City demo, which includes a fully functional Sector 1, complete with characters, vehicles and real-estate.





The team is currently working on the token launch, listing, public demo, character NFT sale, land and real-estate, the introduction of a DAO, taxation and much more.

In Q3, they plan to release the second and third sectors and in Q4, the fourth sector will be released, along with the implementation of Play2Earn action games, eSports tournaments, VIP membership and more.

The project is very interesting and promising. From the list of backers, we see funds such as: Block Brands, Boundless Ventures, CoinVestor, CryptoZilla, R-930 Capital, MH Ventures, Zephyrus Capital and others.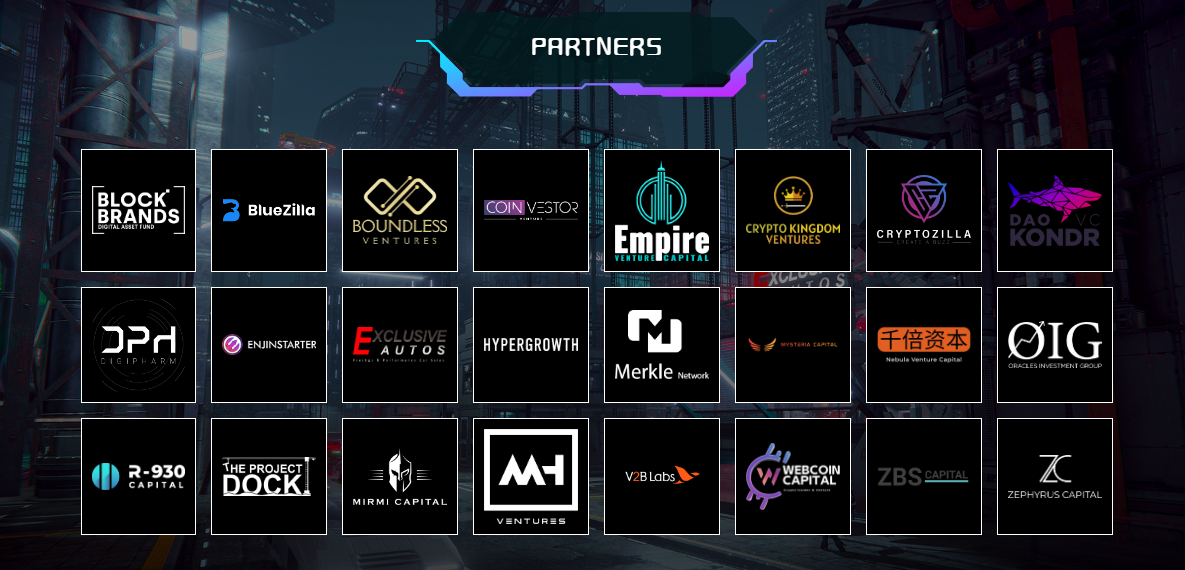 CrypCade is launching on the following launchpads:

Enjinstarter, Infinity Pad, NFTb, Mars Pad and Erax Pad.

On June 18th, it will also be released on the SpaceSwap platform - https://launchpad.spaceswap.app/. Be sure to check out the sale details and schedule here : https://blog.spaceswap.app/tpost/vmnspvh2t1-more-details-of-the-crypcade-sale

If you have any further questions or comments you'd like to make, join our text AMA with CrypCade in the SpaceSwap TG chat group (https://t.me/SpaceSwap).


Conclusion:

The main aim of the CrypCade project is to use 3D, AR, VR, MR and Al technologies to create an immersive world that transitions seamlessly between desktop and mobile devices, allowing users to access the metaverse wherever they are.

Given all the above mentioned benefits, the project looks extremely promising. It has an abundance of impressive features and lots of possibilities for earning while playing. What seems even more important is that CrypCade has chosen the right path to achieving its goal of becoming the first metaverse for real businesses.