Being flooded with unreliable cloned protocols, the DeFi industry needs a proper SHAKE up. The SpaceSwap project will be released soon to give farmers generous profits with MILK on top.

Why is it better than DeFi fast food?
People are always in a hurry. Instead of having a substantial meal, they prefer a five-minute break to get fast food, then rush back to work. In the long term, this takes a negative toll on their health and productivity. The same happens in the DeFi industry: thousands of users rush to invest millions in newly-created food-themed finance products projects, hoping to make fast and easy money. SushiSwap, Spaghetti Money, KIMCHI, Hotdog, Pizza Finance — this new frenzy attracts an army of liquidity providers who are starving for profits.

Does fast food satisfy the appetite?
It might seem to be a quick fix, but there's a list of issues caused by junk food and DeFi products are no exception.
Prepared in a couple of minutes, a cheap burger consists of God-knows-what. 'Who cares?' — the cooks think. Creators of DeFi protocol clones are guided by the same principle: they copy existing original protocols without fixing bugs or checking codes properly. As a result, their unaudited smart contracts contain security flaws, errors and vulnerabilities that put users' assets in danger.
How about Yam Finance and KIMCHI with code bugs on their platters? Yuck. No matter what's served, it should be safe and properly cooked by people who know the DeFi kitchen inside out. Otherwise, users might get poisoned at any moment.
Even a chef's specialty can be deceiving. Thousands of SUSHI lovers have recently invested in SushiSwap without caring about the cooking technology used. It's no surprise either that the anonymous Chef Nomi left the food truck selling off all the SUSHI coins!
It's time for yield farmers to learn from their mistakes and choose organic DeFi products. No more of "the plebs lap it up" approach — liquidity providers will soon get picky and only invest in high-quality products.

How about MILK a la carte?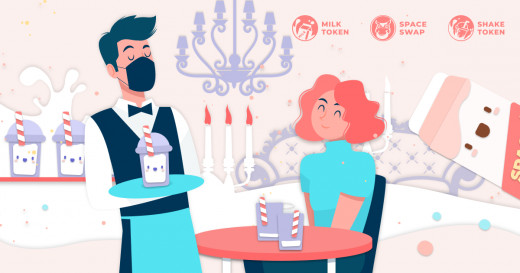 Eating on the hoof doesn't provide people with essential nutrients, just like one-day DeFi projects don't bring substantial profits. There's one product that's set to replace all these junk foods — it's MILK!
Where can you get it from? The SpaceSwap DeFi project offers an improved and tested version of the Uniswap protocol and delivers a stable profit from APY rates plus MILK coins that satisfy farmers' thirst for earnings.

What makes MILK the only super-food on the DeFi market?
Organic contents only. SpaceSwap will unite major DeFi protocols with numerous liquidity pools AND provide a MILK-SHAKE pool with elevated deposit rates.
Juicy rewards. Aside from sharing 0.25% of Uniswap's profit, SpaceSwap users will receive MILK coins — they are issued and paid out after block generation.
100% safety. SpaceSwap offers a tested and verified smart contract that will soon be inspected by independent auditors.
You can SHAKE it. Serving to boost users' revenue, SHAKE is the native stablecoin that's pegged to the MILK coin at a 1:1000 ratio. Users can buy SHAKE with MILK coins. SpaceSwap gets 0.05% of Uniswap's 0.3% reward to buy MILK coins on the market and distribute them among SHAKE holders.
It's ever-fresh. While fast food projects appear and then die, SpaceSwap is made to last! By introducing new pools and tokenomics models, it will provide users with more stable sources of profit and ways to earn and utilize MILK coins.
Get a serving of MILKSHAKE
The SpaceSwap project will be launched on 10th September to saturate farmers' thirst for organic profits. Early adopters will get more MILK coins and enjoy extra treats. The number of potential investors is growing day by day, so the project will rock the DeFi market from the first day.
Need more info? Check out the smart contract on GitHub and visit https://spaceswap.app/
Open the MILK-ETH pool on Uniswap and click on the Trade button to buy MILK instantly.
Fresh & delicious news is available on Telegram and Twitter.
Join the SpaceSwap astronaut team in Discord.
Welcome to our WeChat channel! Scan this QR Code: