We're excited to announce that SpaceSwap — a diverse ecosystem of DeFi products that include the crypto lending protocol SpaceLend — is integrating Chainlink Price Feeds on the Binance Smart Chain mainnet. By integrating Chainlink's industry-leading decentralized oracle network, SpaceSwap will gain access to the high-quality, tamper-proof price feeds needed for creating a secure and seamless multi-borrowing/lending protocol. This will help provide our users with strong assurances that SpaceLend references accurate price data when utilizing a variety of cryptocurrencies on the platform.

The initial integration will involve the use of Chainlink Price Feeds for the following pairs: BNB/USD, CAKE/USD, BUSD/USD and USDT/USD. We chose Chainlink as our go-to oracle solution because its infrastructure is seamless to integrate and its production has been time-tested. Chainlink already helps secure leading DeFi protocols that are responsible for billions of dollars worth of value in smart contracts., They maintain robust security and high availability, even amidst unexpected events such as exchange downtime, flash crashes and data manipulation attacks via flash loans.

SpaceLend is a BSC-based multi-borrowing/lending protocol that works with popular crypto assets. Its algorithms are similar to other lending protocols, except that they are optimized for a smoother user experience. The protocol offers unlimited access to the value held in users' assets, without the need to sell. Only two clicks are needed to start earning from supplying assets or to expand one's capabilities by borrowing.



SpaceLend will leverage Chainlink Price Feeds to take advantage of decentralized oracle networks. Each node sources price data from multiple premium off-chain data aggregators, helping ensure that the data source itself reflects a volume-adjusted average that's aggregated from both CEXs and DEXs. This will help enable our smart contracts to accurate on-chain prices when making loans and checking loan collateralization.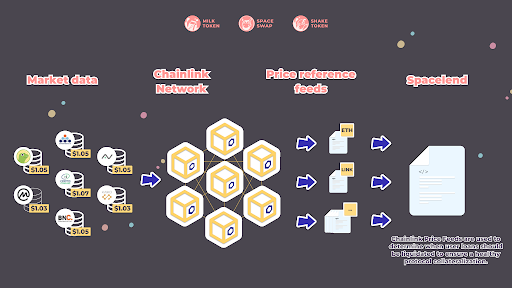 In order to help secure our crypto lending/borrowing, we need highly reliable access to fresh asset prices that are available directly on-chain. Fair market asset prices should reflect a volume-weighted average from all trading environments. Hence, why we need to make use of an oracle that can fetch aggregated price data off-chain and deliver it on-chain to be processed by our application.

After reviewing various oracle solutions, we decided to run with Chainlink Price Feeds because they provide a multitude of critical features, such as:


High-Quality Data — Chainlink Price Feeds source data from numerous premium data aggregators, ensuring broad market coverage through price data that's aggregated from hundreds of exchanges, weighted by volume, and vetted for outliers and wash trading. Chainlink's data aggregation model generates accurate global market prices that are inherently resistant to inaccuracies and manipulation by any single or small set of exchanges.
Secure Node Operators — Chainlink Price Feeds are secured by independent, security-reviewed and Sybil-resistant oracle nodes run by leading blockchain DevOps teams, data providers and traditional enterprises. Chainlink nodes have a strong track record of reliability, even during high gas prices and infrastructure outages.
Decentralized Network — Chainlink Price Feeds are decentralized at the data source, oracle node and oracle network levels, providing strong protection against downtime and tampering by either the data provider or the oracle network.
Reputation System — Chainlink provides a robust reputation framework and set of on-chain monitoring tools that allow users to independently verify the historical and real-time performance of node operators and oracle networks.

SpaceSwap has no intention of resting on its laurels and plans further integrations with Chainlink. This will include the addition of new price feeds in the SpaceLend protocol, as well as expansion onto other chains.

"The role of price oracles cannot be overestimated, especially for lending protocols. Thanks to Chainlink Price Feeds, SpaceLend will have access to the most robust and accurate price data to help it maintain a safe and reliable liquidation process, even during outlier events such as flash loans, high gas prices, periods of network congestion, and centralized infrastructure outages. Our protocol's security and health will be substantially increased" – Dan Khomenko, CEO of SpaceSwap.


About Chainlink
Chainlink is the industry standard oracle network for powering hybrid smart contracts. Chainlink Decentralized Oracle Networks provide developers with the largest collection of high-quality data sources and secure off-chain computations to expand the capabilities of smart contracts on any blockchain. Managed by a global, decentralized community, Chainlink currently secures billions of dollars in value for smart contracts across decentralized finance (DeFi), insurance, gaming and other major industries.

Chainlink is trusted by hundreds of organizations, from global enterprises to projects at the forefront of the blockchain economy and delivers definitive truth via secure, reliable oracle networks. To learn more about Chainlink, visit chain.link, subscribe to the Chainlink newsletter and follow @chainlink on Twitter. To understand the full vision of the Chainlink Network, read the Chainlink 2.0 Whitepaper.

Solutions | Docs |Discord | Reddit | YouTube | Telegram | GitHub


About SpaceSwap
SpaceSwap is a handy service for liquidity pool providers. The suite of SpaceSwap products includes NFT farming, index tokens, LP staking and the upcoming lending and multi-borrowing solution - SpaceLend. The company is revolutionizing yield farming with its Shadow Staking technology, which makes the process more secure and less costly.

For more information, see GitHub or contact the SpaceSwap team:

Website: https://spaceswap.app/
Telegram: t.me/SpaceSwap
Twitter: https://twitter.com/spaceswapdefi
Blog: https://blog.spaceswap.app/
Discord: https://discord.gg/r6RymJj
WeChat channel invitation via manager: